Map-Me
Map-Me Introduction
Map-Me ("Mapping Meanings") is an online Public Participation GIS (PPGIS) for the creation of online surveys for the collection of 'fuzzy' spatial data. Based upon a "spray and say" approach, Map-Me uses an 'airbrush' interface (the "Spraycan") to allow participant's to "spray-paint" on to a Google Map, in order to answer fuzzy spatial questions (e.g. "Where you think...?"). Free-text comments are also collected alongside spray patterns in order to add context (e.g. "What makes you think...?"), providing a technology to take account of the vagueness of interviewees' responses.
Click here to log in to the Map-Me Manager
Map-Me is a software project developed by Jonny Huck, Stephen Carver and Alan E. Watson, product of the collaboration between three institutions of the UK and the USA:
The University of Leeds, through the School of Geography, the Wildland Research Institute and the Centre for Computational Geography.
The USDA Forest Service, through the Rocky Mountain Research Station and the Aldo Leopold Wilderness Research Institute.
Lancaster University, through Imagination Lancaster, part of the Lancaster Institute for the Contemporary Arts.

Use of Map-Me and information on this site is free at point of use. We kindly request that any written publication arising from the sole use of Map-Me include Jonny Huck and Stephen Carver as co-authors.
Map-Me Features
Map-Me goes beyond traditional ways of crowd-sourcing and in some respects is innovative among community-based GIS. The following is an outline of its main features:
It is online based, so answers can be stored in a remote database server instantly.
It allows the documentation of cartographic questions (e.g. "Locate those places that you think are at flooding risk").
It allows interviewees to add comments in order to provide context to their spray patterns.
Geographical context is provided by the familiar Google Maps layers.
Features are indicated by the Spraycan interface, that sprays dots of paint over areas of interest (e.g. places where crime is of highest concern), allowing the representation of spatial uncertainties.
Respondents can adjust the degree of resolution of their cartographic responses, by zooming in and out on the base map while using the spray can tool.
Importance or concern of marked places can be quantified by the amount of spray accumulated.
Respondent demographics and non-spatial questions can be included in the form, facilitating the coupling of classical surveys with mapping-based questions.
Map-Me Screenshots
Demographic Questionnaire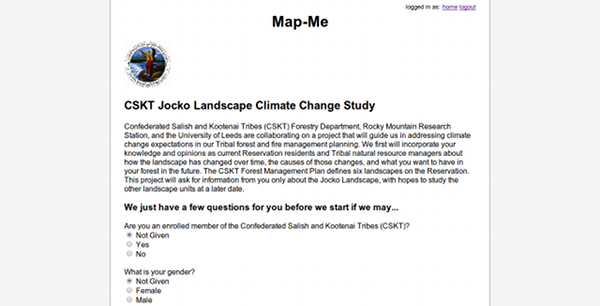 Mapping Interface (empty)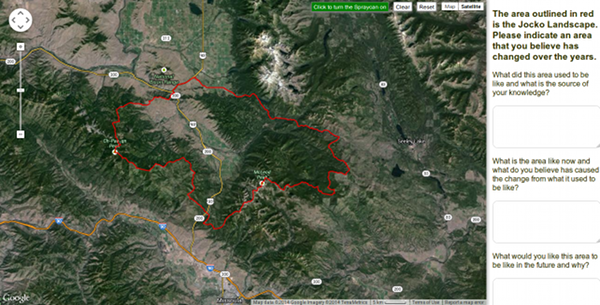 Mapping Interface (with example inputs)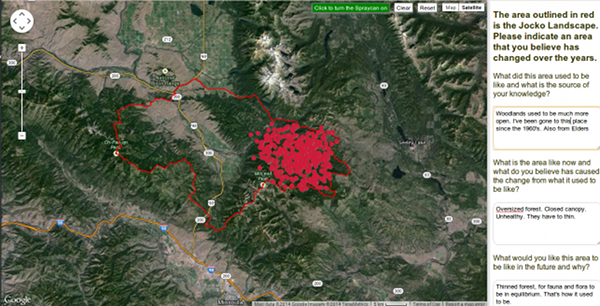 Map-Me Case Studies
Environmental Risk at the Mission Mountains Tribal Buffer Zone of the Flathead Reservation (Montana, USA)
Co-PI's: A. Watson (USDA Forest Service), R. Matt (CSKT Forestry Dept)
This study focused on an interface area between the Mission Mountains Tribal Wilderness and the non-wilderness valley floor, formally protected as a 'buffer zone'. The buffer zone was established to provide opportunities for multiple uses corresponding to both wilderness and non-wilderness, including cultural uses, home sites, recreation, and other consumptive and non-consumptive resource uses. One of the primary concerns within the buffer zone is the effect that fire suppression has had on the structure and general health of the forest. The current focus of resource managers is on how to reduce potentially hazardous fuel loads in the buffer zone. However, past proposals to reduce hazardous fuel loads in the buffer zone have failed due to lack of support among tribal members, especially for commercial thinning operations. The PPGIS study sought to provide a better documentation of how tribal and non-tribal residents viewed the buffer zone and how they might respond to new fuel treatment proposals in this area, collecting the data by a fuzziness-based PPGIS tool developed by Tim Waters ("Tagger") from which the concept of Map-Me evolved.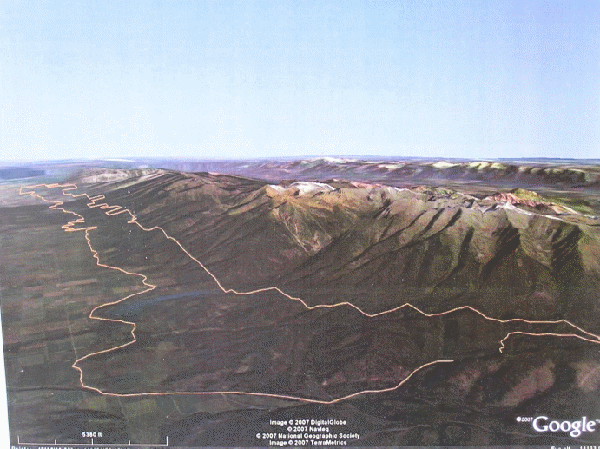 In the first phase of this study, knowledgeable key informants were interviewed to develop an understanding of the range and types of values attached to the buffer zone by tribal and non-tribal residents on the reservation. This led to the identification of 5 themes of meanings:
Wilderness Protection
Wildlife Habitat & Water Quality
Recreation & Scenic Values
Access & Functional Benefits
Personal & Cultural.
These themes were used as basis for a PPGIS survey. The objective was to understand how these meanings about the landscape are actually attached to places, together with the intensity of this attachment.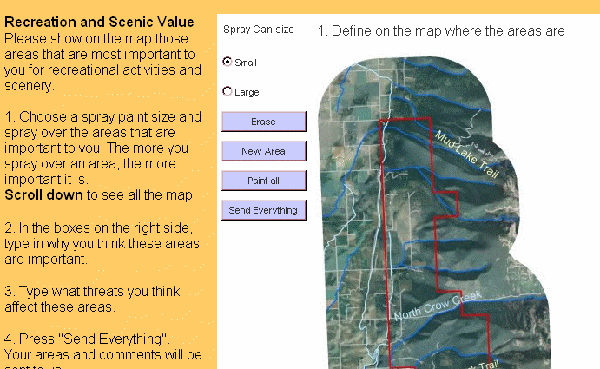 A composite map of all meanings for all users was also created. You can see from these maps that there were marked differences in the spatial pattern and intensity of meanings associated with the five themes, with areas in red having the highest intensity of meaning. Of the 5 themes, wilderness protection shows the greatest uniformity, perhaps as a result of the general view among respondents of the Buffer Zone as a policy zone with equal protection along its length. Hot spots within the recreation and personal/cultural theme maps reflect the nature of the access corridors. Plotted collectively, the perceived threats from fire are extensive and widely distributed. Tribal members described risks to cultural areas, the potential for catastrophic fire events, the presence of hazardous fuels, and fire-fighting activities as threatening to local place meanings. Even more intense and broadly distributed were the perceived threats from logging. Tribal members described this threat in terms that included loggers, large-scale logging, commercial logging, irresponsible logging, incompatible timber harvest, and so on.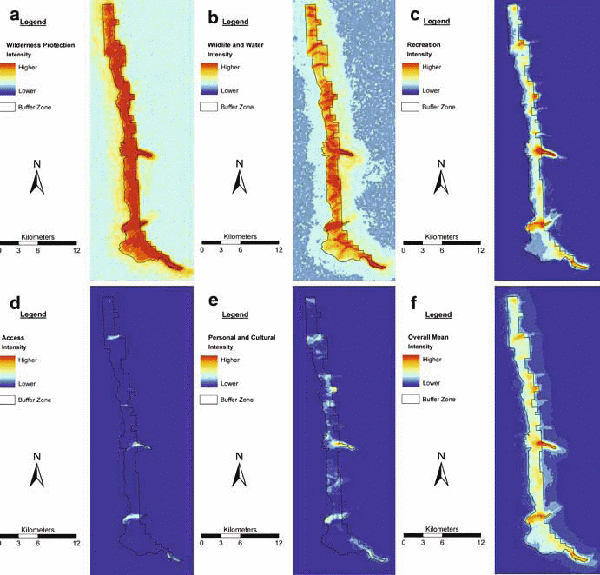 The results provided an extremely rich resource for policy development in regard to landscape resource management. The final stage of the project concentrated on applying the newly gained knowledge about place meanings to decision-making about the Buffer Zone. Focus groups composed of tribal members met with the Forest Department staff who were proposing general fuel treatments in the buffer zone. These public perceptions represented priorities that managers could integrate with resource management objectives. Through these processes, healthier forests, renewed public trust, and protected natural and cultural resources for the Salish and Kootenai tribes may evolve.
Map-Me Resources
Manuals
Huck, J. (2012). Map-Me User Manual.
Papers
Carver, S.; Watson, A.; Waters, T.; Matt, R.; Gunderson, K. and Davis, B. (2009). Developing Computer-Based Participatory Approaches to Mapping Landscape Values for Landscape and Resource Management (2009). In S. Geertman, and J. Stillwell (eds.), Planning Support Systems Best Practice and New Methods, pp. 431-448. Springer.
Evans, A.J. and Waters, T. (2007). Mapping vernacular geography: web-based GIS tools for capturing "fuzzy" or "vague" entities, International Journal of Technology, Policy and Management, 7(2): 134-150.
Waters, T. and Evans, A.J. (2003). Tools for web-based GIS mapping of a "fuzzy" vernacular geography. Proceedings of the 7th International Conference on GeoComputation.
Presentations
Huck, J.J.; Whyatt, J.D.; Yielding, S.; Stanford, H. and Coulton, P. (2013). Development and application of a "spray-can" tool for fuzzy geographical analysis. 21st GIS Research UK Conference.
Sanchez-Trigueros, F. (2014). Public Participation GIS in environmental research and planning, University of Montana, Department of Geography, 24 February 2014.
Sanchez-Trigueros, F., Carver, S., Huck, J., Matt, R., McBride, B. & Watson, A. (2014). The treatment of public participation data in environmental impact assessment: setting up smart systems for the synthesis and mapping of vague definitions. 22nd GIS Research UK Conference.
Map-Me Future Work
A semantic software kit (lead: F. Sanchez-Trigueros). We are developing a toolkit for the joint storage, management and analysis of spatial data contained in different semiotic modes (text, images, geodatabases). It is being developed to be 100 % compatible with Map-Me datasets, allowing the synthesis and cartographic mapping of georeferenced text by AI techniques for language processing and computer vision.
A hands-free gesture-controlled interface for Map-Me (lead: J. Huck). Investigation is currently taking place into the possibility of providing versions of Map-Me that are compatible with touch-screen interfaces, 'LeapMotion' gesture control interfaces, and 'UbiDisplays' interactive projections.
An offline version of Map-Me (lead: J. Huck). Following demand from a number of Map-Me users, we are currently investigating offering an offline version that may be used without the requirement for an internet connection.
Map-Me Team
Jonny Huck
Jonny is a Research Associate at the 'Imagination Lancaster' design laboratory at Lancaster University. He has extensive experience in geospatial software development and cartographic design. His interests include web mapping, fuzzy geography, geospatial visualization, and the application of new technologies to spatial analysis. He is the lead software developer for Map-Me.
Stephen Carver

Steve is a Geographer and Senior Lecturer at the University of Leeds. He has 25 years' experience in the field of GIS and multi-criteria evaluation with special interests in wild land, landscape evaluation and public participation. He has worked extensively on the development of wild land mapping and evaluation methodologies and has tested and applied these across a variety of locations and spatial scales including Scotland, England, Britain, Europe, and the USA.
Alan Watson

Alan joined Forest Service Research in 1988 and has directed the social science program both before and since transformation of the US Forest Service Wilderness Research Work Unit to the Aldo Leopold Wilderness Research Institute. Alan has represented the Leopold Institute three times on Fulbright appointments (Finland, Russia and Brazil), serves on the Editorial Board of the International Journal of Wilderness, and he represents the Leopold Institute and partner agencies on the Executive Committee of the World Wilderness Congress.
Fernando Sanchez-Trigueros

Fernando is a Research Assistant in the Department of Geography at the University of Leeds. He specializes in providing software functionality for the synthesis, retrieval, mapping and analysis of vague information out of Public Participation GIS data, focusing on the processing of data collected by the Map-Me PPGIS tool. In so doing he is combining theoretical, methodological and technical principles of computational linguistics, GIScience and fuzziness for the implementation of multimodal geodata structures equipped with text, image and geospatial attributes.
Map-Me News
Fernando Sanchez-Trigueros and Steve Carver, through the Centre for Spatial Analysis and Policy at the University of Leeds, have launched a Map-Me survey for the collection of student perceptions of crime in the City of Leeds.
Fernando Sanchez-Trigueros, Steve Carver and Jonny Huck will be giving a workshop on Map-Me at the Digital Conservation 2014 Conference, 23th May in Aberdeen (UK).
© 2014 The Map-Me Team